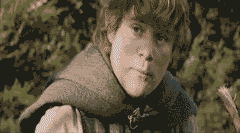 I think about this part of Lord of The Rings possibly every day.
Smiegel says: what's taters precious?
Sam says: Po-Ta-Toes
but it does look like mo naked ho's CHECK IT OUT!
This is the ultimate day maker! I'm a happy FREAKING CAMPER!
Some people go swimming and camping on labor day weekend. I go buy a new mattress and spend 3 hours at IKEA which inevitably will become 8 hours of putting shit together. I am happier with the new furniture than a camping trip. But THIS THIS THIS GIF oh this thing makes me happiest.
THANKS JOE!!!!